CL-102-1.CL-102-2.CL-102-3.

TAI SAM CORPORATION
www.tai-sam.com
由鑫國際有限公司

TAI SAM CORPORATION

TEL: +886-2-26028689
FAX: +886-2-26031387
E-mail: info@tai-sam.com.tw
Address: No. 371, Sec.2, Wenhua 2nd Rd., Linkou Dist., New Taipei City 244, Taiwan (R.O.C)
Torque Hinge.Stainless Steel
Operation Process
Material: main body - Stainless Steel 304
S.Tr: Vibration Polish
Opening angle:0~270°
Application: industrial cabinets, power cabinets, food machinery and medical equipment door panel.
Features: Arbitrary stop torque, can be positioned and stopped at any angle within the opening and closing range,Passed 20,000 lift cycle test,
Stainless steel is especially suitable for use in humid and high temperature environments.
Installation hole spacing is also suitable for installation on aluminum extrusion equipment door frame.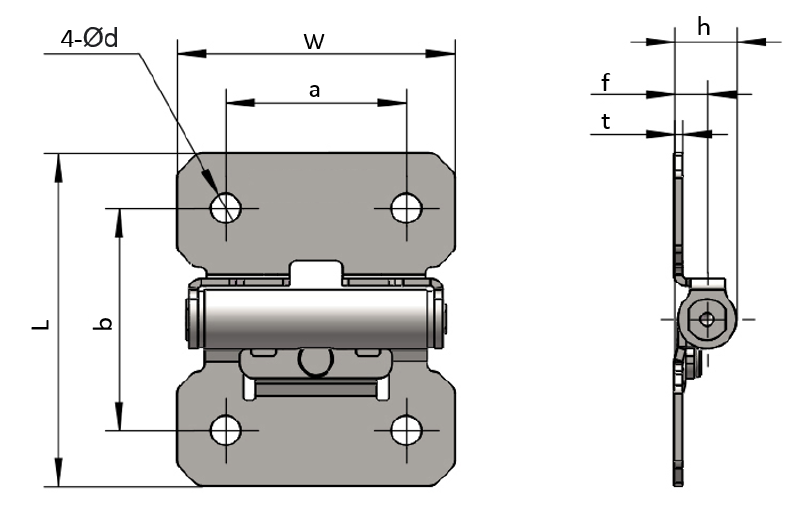 | | | | | | | | | | | |
| --- | --- | --- | --- | --- | --- | --- | --- | --- | --- | --- |
| Item NO | Material | Torque | a | b | W | d | L | f | h | t |
| CL-102-1 | SUS304 | 0.35N.m +/-20% | 18 | 21.5 | 32 | 4.3 | 36 | 4.25 | 8 | 1.2 |
| CL-102-2 | SUS304 | 0.7N.m +/-20% | 26 | 32 | 40 | 4.3 | 48 | 4.75 | 9 | 1.2 |
| CL-102-3 | SUS304 | 1.5N.m +/-20% | 36 | 32 | 50 | 4.3 | 48 | 6.5 | 12.5 | 2 |